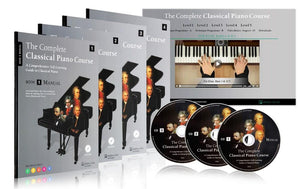 A Complete All-in-one Home Study Course for Learning Classical Piano.
READ the text, HEAR the audio and WATCH the videos. 
Four volumes, three audio CDs and over one thousand online videos.  Everything you need in one course to master Classical Piano.
30 CLASSICAL PIECES - including Für Elise and Prelude 1
MASTER Sight-reading - get up to speed with a 15 Video Basics training course
MASTER Technique - with 10 and 18 month training programmes
MASTER Aural - Learn to phrase and express the music using Technique, Dynamics and Articulation
MASTER Theory - including Key Signatures, 2-4 part Harmony and Ornaments 
MASTER The Art of Practising - Break down left, right and hands together, how to increase your speed AND how to practice LESS but progress FASTER
And MUCH MORE!
30-day GUARANTEE!*
Try out the complete course for a full 30 days!
If you don't see any improvement in your piano playing or feel this course is not for you, you can return the books and CDs with no questions asked for a full refund.
*30 day guarantee is not available on sale items. Please see refunds.