"The material is remarkably detailed in its coverage of theory and technique. Each piece in the fourth volume is accompanied by detailed practice notes providing the sort of advice a teacher would give when studying the music."

PIANIST MAGAZINE REVIEW - FEB-MAR 2019
Now is the time to learn to play the piano.
The Complete Classical Piano Course is all you need to start playing.  
The course condenses 25 years of professional playing into four comprehensive volumes, three CDs and over 1000 professional videos.
Learn key skills like theory, grammar, aural exercises and technique.
The Complete Classical Piano Course is a rewarding, nurturing and encouraging method for beginners and intermediate players alike.
You don't need a Steinway Grand. Any piano, even a digital one, will get you started. Weighted keys and the appropriate span of keys are recommended, but even if you only have a simple keyboard, The Complete Classical Piano Course will help you decide if you want to invest in a better instrument. 
Learn by reading, listening, watching and playing.
The Complete Classical Piano Course costs on average less than ten hours of private tuition, but the potential progression it affords a player is incomparable.  Put in the effort and there's no limit to the skills it can teach you. 
The Complete Classical Piano Course won't punish you for missing a lesson, it's designed so that players can pick up where they left off.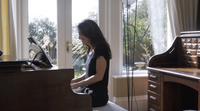 "I love the way I can dip in and out of the course when it suits my flexible 'professional holidaymaker' lifestyle. That sort of flexibility was my main reason for taking the course. It's great to be able to look back to check up on something that I might have missed or forgotten, without the stress of feeling that I'm imposing or taking up anyone's time but my own."

GEOFF HALLAS, current student

Recommended by Pianist magazine in the 'Top 20 Best Piano Books for all Levels'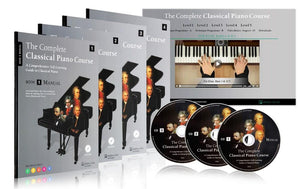 Still not sure?
Use our comparison chart below to find out if this course is for you.
* Price: £2880: Based on weekly private piano lessons for 18 months @ £40 / hr.
* 24Hr Support: You will be signed up to the VIP Students Facebook group where you can interact with other students and the author/teacher John Geraghty. *applies to £297 price only.
*Stress free learning: Some students find it stressful playing infront of their own teachers. YouTube learners may find it stressful if they can't find the right teacher and right lesson.
Trouble viewing it? Click here