"The material is remarkably detailed in its coverage of theory and technique. Each piece in the fourth volume is accompanied by detailed practice notes providing the sort of advice a teacher would give when studying the music."

PIANIST MAGAZINE REVIEW
Attention all pianists!
Are you looking for a comprehensive and complete piano course that will take your playing to the next level? Look no further, because The Complete Classical Piano Course has everything you need.
Whether you're just starting out or want to take your skills to the next level, The Complete Classical Piano Course has got you covered. It's perfect for beginners, intermediate players and those coming back to the piano who want to improve their playing and reading technique AND who want to learn at their own pace, stress free! Using a structured, easy-to-follow method, students will learn by reading, listening, watching, and most importantly – playing!
Developed by a professional piano teacher with over thirty years of experience, this course is full of expert tips and strategies, covering theory, technique, ear training, practice and playing techniques using four comprehensive volumes, three CDs, and over 1000 high-quality interactive videos.
It's full of expert tips and strategies that's been tried and tested on students as young as six years old and as old as seventy five! If young students can play the piano hands together without looking down and without the letters written under the music or on the piano keys, it can definitely work for you! Everything from tips on coordination, how to learn a piece of music line by line and even how to do a page turn!
And here's the cherry on top - The Complete Classical Piano Course costs less than ten hours of private tuition on average. That's right, for a fraction of the cost of private lessons you can master all the necessary skills to become a talented pianist.
But don't just take our word for it. The Complete Classical Piano Course is recommended by Pianist Magazine's Top 20 Best Piano Books For All Levels!
BONUS! You'll feel supported and encouraged every step of the way with access to John Geraghty's VIP Students: The Complete Classical Piano Course on Facebook. Upload your own videos, ask him questions and receive expert feedback at no extra cost!
Are you ready to take your piano skills to the next level? Join countless others who have already benefited from The Complete Classical Piano Course. Get started today!
"I love the way I can dip in and out of the course when it suits my flexible 'professional holidaymaker' lifestyle. That sort of flexibility was my main reason for taking the course. It's great to be able to look back to check up on something that I might have missed or forgotten, without the stress of feeling that I'm imposing or taking up anyone's time but my own."

GEOFF HALLAS, current student

Recommended by Pianist magazine in the 'Top 20 Best Piano Books for all Levels'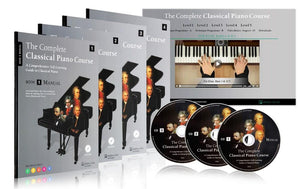 A Complete All-in-one Home Study Course for Learning Classical Piano.
READ the text, HEAR the audio and WATCH the videos. 
Four volumes, three audio CDs and over one thousand online interactive videos.  Everything you need in one course to master Classical Piano.
30 CLASSICAL PIECES —Including Beethoven's Für Elise and Bach's Prelude 1
MASTER Sight-reading —Get up to speed with a 15 Video Basics training course
MASTER Technique —With 10 and 18 month training programmes
MASTER Aural —Learn to phrase and express the music using Technique, Dynamics and Articulation
MASTER Theory —including Key Signatures, 2-4 part Harmony and Ornaments 
MASTER The Art of Practising —Break down left, right and hands together, how to increase your speed AND how to practice LESS but progress FASTER
30-day GUARANTEE!*
Try out the complete course for a full 30 days!
If you don't see any improvement in your piano playing or feel this course is not for you, you can return the books and CDs with no questions asked for a full refund.
*30 day guarantee is not available on sale items. Please see refunds.
Still not sure?
Use our comparison chart below to find out if this course is for you.
* Price: £2880: Based on weekly private piano lessons for 18 months @ £40 / hr.
* 24Hr Support: You will be signed up to the VIP Students Facebook group where you can interact with other students and the author/teacher John Geraghty. *applies to £297 price only.
*Stress free learning: Some students find it stressful playing infront of their own teachers. YouTube learners may find it stressful if they can't find the right teacher and right lesson.
Trouble viewing it? Click here